When you've got a small business, it's important to keep track of all the information you need to do your day-to-day work. From invoicing clients to keeping track of expenses, you need a business management system that helps you do your job.
In this article, we outline some of the best small business CRM solutions so you can make an informed decision about what CRM software is best for you and your business.
Why A Small Business Should Use CRM Software
The most significant benefit CRM software can bring to your small business is connecting with your customers to help you grow the relationship. A CRM can help you guide your customers through the sales funnel and repeatedly bring them back to you.
For example, if you have a roofing business, you may have been called once for a small leak or simple repair of missing shingles. While onsite you might schedule a yearly inspection or recommend repairs or replacement. But what if you could provide recommendations throughout the year that bring you more business? It costs five-ten times more to close a new customer than retain an existing one. The best part is that a repeat customer will spend 30% more than a new customer. Sounds amazing, right?
A CRM can help accomplish this without much effort on your part. Once you have completed the work, you can automatically schedule reminder emails to send the customer in six months. Or using your CRM system, you can quickly identify customers that have older roofs and send emails or letters to offer a free inspection. The opportunities don't stop there.
Here are some quick statistics on the benefits of CRM software:
Productivity – having a CRM can improve your sales productivity by 34%
Sales Revenue – the average Return on Investment for using a CRM is $8.71 for every $1 invested
Upselling/Cross-Selling – you have a 60-70% better possibility of increasing revenue from existing clients and a 5-20% chance of increasing the pie with a prospect
Retention – Small business CRM software can improve customer retention by as much as 27%
Benefits of CRM for A Small Service Business
Increase Your Revenue. CRM applications are designed to help companies increase their revenue by streamlining the sales process (e.g., through increased efficiency in generating leads) and by better managing existing customers (e.g., through more effective cross-selling). CRM applications provide an organization with a 360-degree view of its customers that includes the ability to view customer information across all departments (e.g., sales, marketing), regardless of which system originally captured that information. It also provides an automated mechanism for capturing customer preferences and behavior, which can then be used to tailor future interactions with that customer.
That means that with a CRM, you can follow your prospect's journey down the sales funnel from the beginning to beyond the point of conversion. The best part is that you can customize this funnel according to your business' sales process.
For example, a plumber gets a call from a customer that has an emergency repair need. They fix the problem but notice a potentially more significant issue that could come in the future. However, the customer is not interested in that, and they leave without having secured more work. With your field service CRM software having this treasure trove of information, you could automatically send the customer follow-up emails about the bigger problem – offering a discount or educating them about future consequences.
Store and Manage Customer Data. Let's face it, no one can remember everything about every customer, especially as your business keeps growing. CRM software gives you a centralized repository to store and maintain all your data and manage your customer relationships. CRM applications help companies to automate and manage the process of collecting, storing and distributing customer and prospect data. The data is used for a variety of functions, including lead generation, sales forecasting and tracking, customer service management, marketing communication management, product distribution management, cross-selling and up-selling.
Communicate Better With customers. Maintaining healthy customer relationships is a key part of staying in business. It is important for companies to understand how customers think and what they need in order to develop long-lasting relationships that lead to repeat business and referrals. Customer relationship management (CRM) tools are used to help companies keep track of customer information, identify potential leads, and maintain contact with customers when necessary. CRM systems allow companies to keep track of their interactions with customers over time so they can be used as a reference when future interactions take place. They also allow companies to track customer satisfaction levels and present that information to employees so they know what needs improvement. The types of information that is tracked in CRM systems include:
Contact information such as name, address, phone number, email address, etc.
Basic company information such as company name, address and website
Demographic information such as age, gender and income level
Better time management. CRM systems can help small businesses manage their time more effectively by helping them keep track of projects, assign tasks to employees, and prioritize the workload of your sales teams. This can save businesses time and money, as well as increase productivity.
Better collaboration. Companies can use CRM to manage information and collaborate with their employees on projects. This can increase productivity since employees can work more effectively with the tools they need to do their jobs.
Better data analysis. CRM systems can help businesses analyze the data they have to make important business decisions. This can help businesses prevent fraud, protect their brand, and increase revenue.
For example, if you have an HVAC business, you can look for gaps in your service schedule next week. Then search for customers in the nearby area and reach out to ones that could use a maintenance visit or even try to solicit new business by offering to consult on replacing their entire HVAC system. All of this is possible because you already have the job data stored in your CRM.
How much is a CRM for a small business?
CRM software for a small business generally costs between $10 and $50 per month. The reason for the spread is generally going to be due to the services or features offered for each CRM system.
Another factor may be how many people are allowed to use the CRM software, that is log-in and change or otherwise utilize the data. If you're just dipping your toes into the idea of a CRM for your small business, every software linked in this article offers a free trial of some length.
For these CRM platforms that are focused on serving small businesses, there are cheaper options for fewer 'users' so you can start individually and once you're more comfortable with the features, branch out to bigger and better things.
Best Small Business CRM Software
Unfortunately, there is never going to be one 'best' software for the whole of small business owners.  However, we can offer you several choices to consider.
The overall 'Best' CRM for your business is going to be a CRM software that fits your budget, your goals, your employees and your business needs. This will vary by which features are most important to you, how easy the software is to learn or how well the CRM platform integrates with your already in-use technology.
Below, we've listed some of the most popular CRM solutions including Zoho, Hubspot, and Salesforce. Most of the CRMs on this list aren't geared specifically towards small service businesses, but we selected them because they are the most appropriate for small to medium-sized businesses. We've also tried to include different price ranges including a free option!
FieldPulse
This CRM system is known as the "All-in-One Service Business and Contractor Software." Unlike the other offerings on this list, FieldPulse was designed specifically for small businesses. It comes with tools to help create estimates and invoices, schedule jobs, keep track of your team, and efficiently manage customers. So customer data is related to payments, jobs, estimates, invoices, and more.
FieldPulse focuses on giving your small business the functions it needs. As a result, you aren't overspending on enterprise technology while keeping things simple and user-friendly. FieldPulse is available for your Android, iOS, or computer WebApp. It is a specialized solution that can be tailored to any form of service contracting from HVAC contractors to roofing companies, to electrical contractors.
With FieldPulse, you can update statuses quickly (including the ability to attach files and photos) and quickly view everyone's schedule to route jobs efficiently and monitor status. Time-tracking and GPS location tagging features are also included. As well as the ability for every user to create itemized estimates and invoices from anywhere. This makes FieldPulse the best choice for a small service business.
SalesForce CRM for Small Business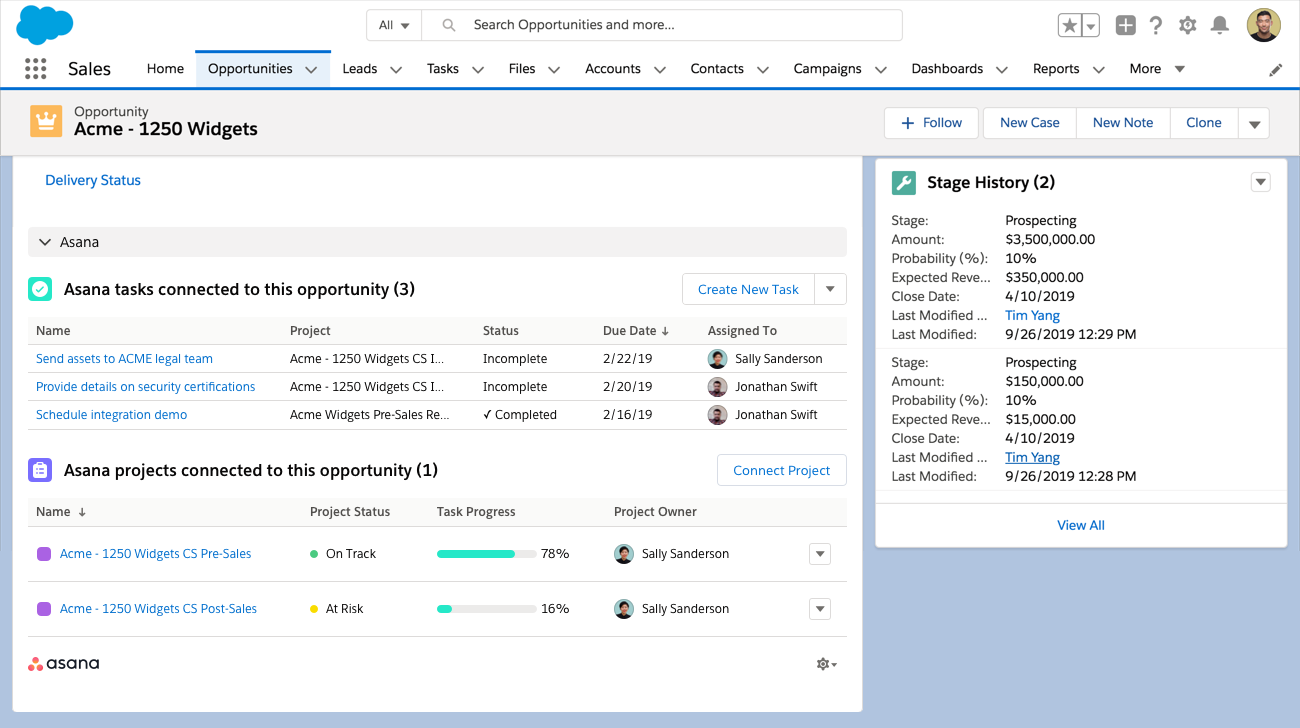 SalesForce is one of the most popular CRM products on the market to manage sales processes. They are especially well-known for serving the largest companies of the Fortune 500, but also offer products for all business sizes including a SMB product for up to 5 users, and the product is highly customizable. It is also designed to support companies in various industries, so it's very customizable.
HubSpot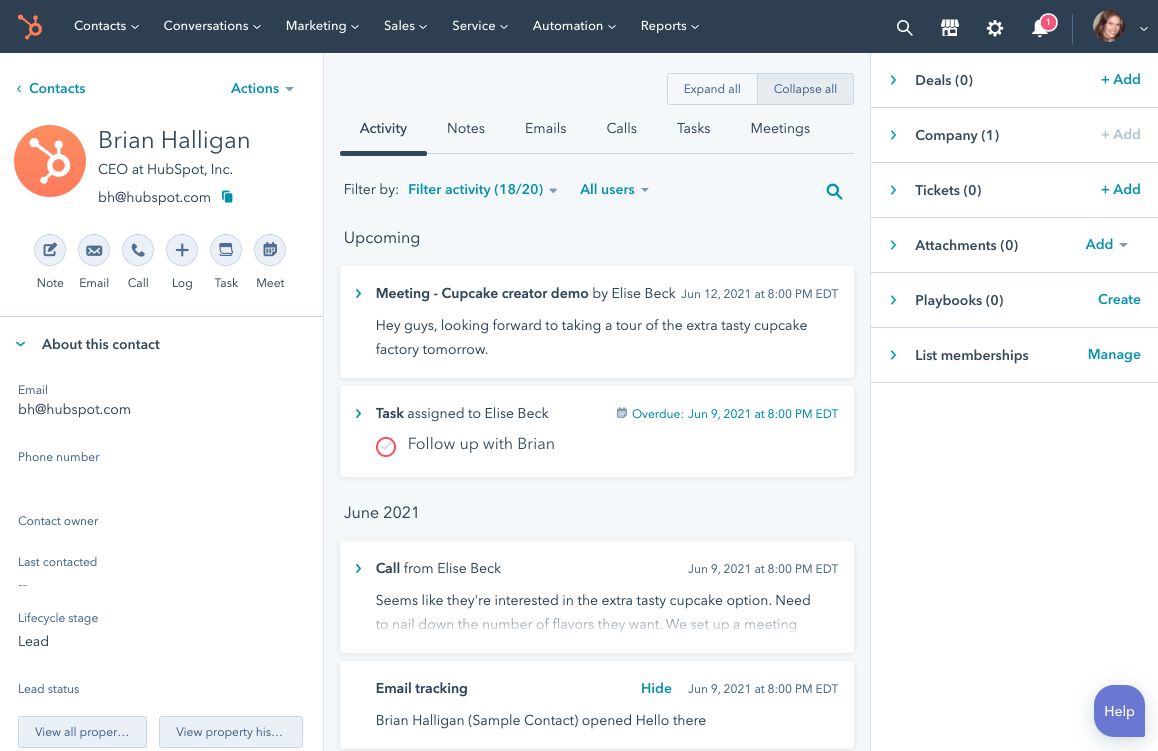 HubSpot offers a free CRM system with a set of core features including:
Contact management
Tasks
Gmail and Outlook integration
Company insights
In the sales hub edition, you can get email scheduling, email templates, email tracking, and documents. Which also comes with a drag-and-drop interface where you can drag deals from one stage to the next (HubSpot CRM offers these features as "free forever.").
While the core features are free, it can cost $50+ per user to use its more advanced features.
The Hubspot CRM program is a little clunky when working between the marketing side and the sales side. And doesn't offer any service contracting-specific features or functions.
PropellerCRM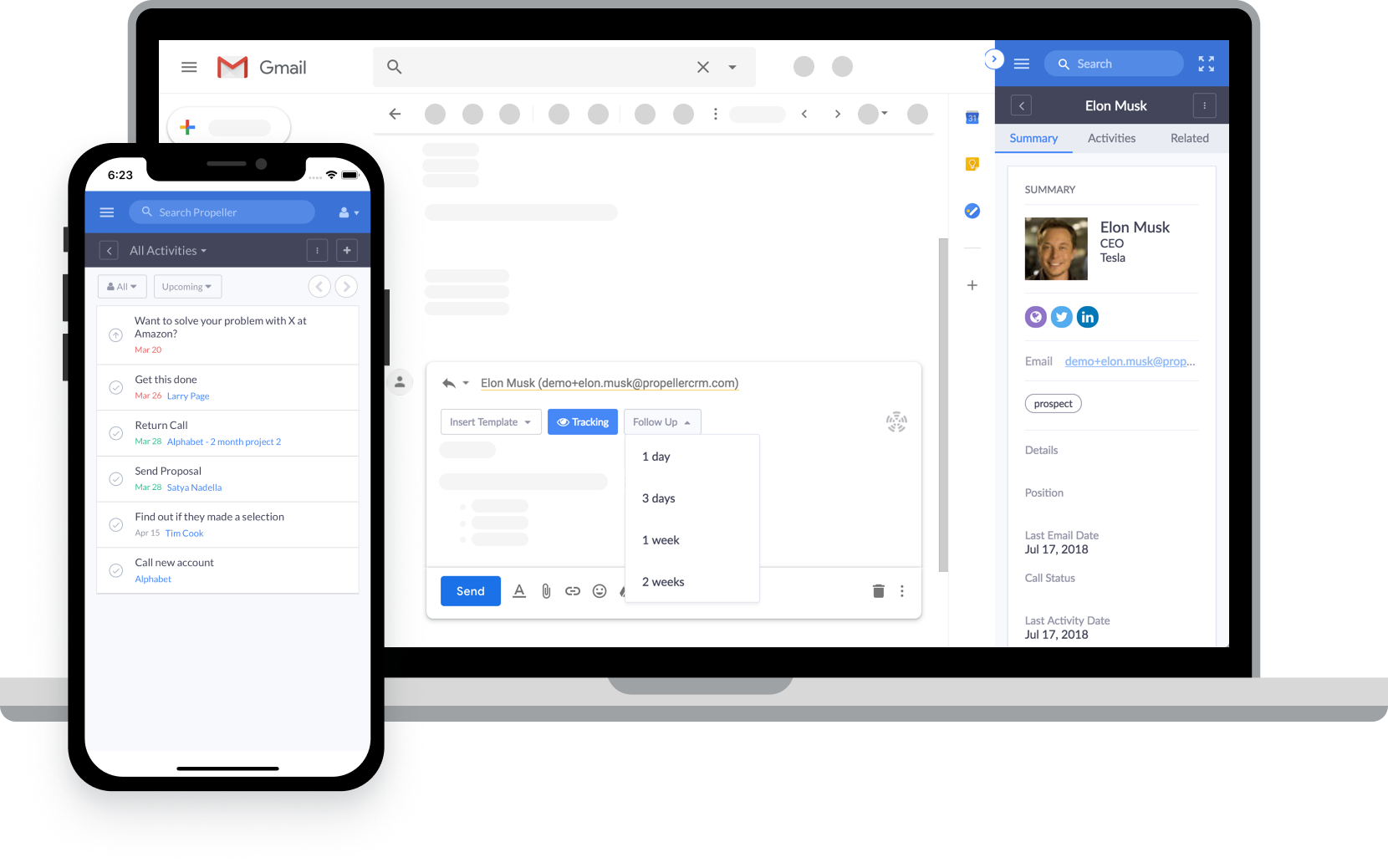 PropellerCRM is a lightweight solution that enables sales pipeline management through Gmail. It is not designed specifically to suit the needs of service contractors but does offer templates, follow-up reminders, and email tracking.
This app integrates into your Gmail or Google For Work account, allowing you to manage your leads and do all your work from within Gmail.
Zoho CRM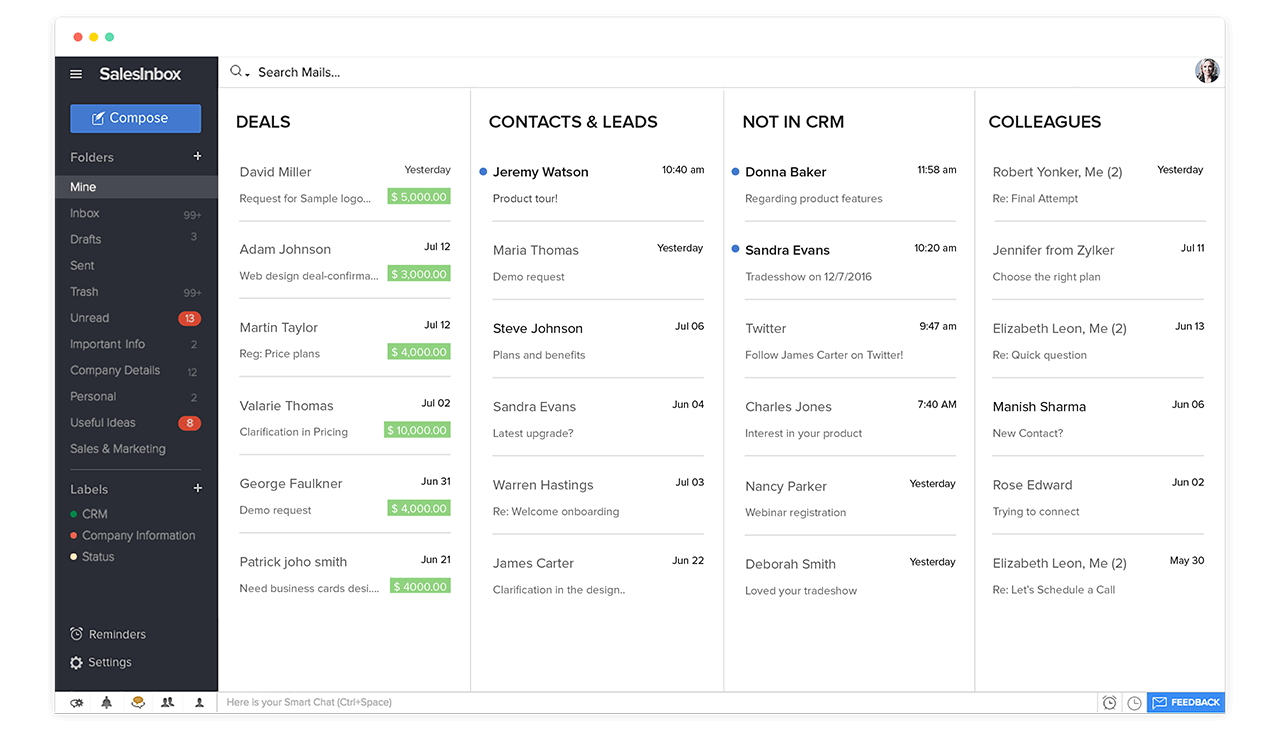 Zoho CRM is a more traditional approach to CRM systems with modules for sales activities, marketing, and service. There are three editions based on the size of your business. Though it's not built specifically for service contractors, it does offer a user-friendly interface.
Zoho CRM also features a separate database for lead management. Using Adobe Flash technology, the Zoho CRM dashboard offers visuals such as three-dimensional charts. In terms of forecast reporting, you will get the basics such as showing gaps between sales quota and percentage quotas.
PipeDrive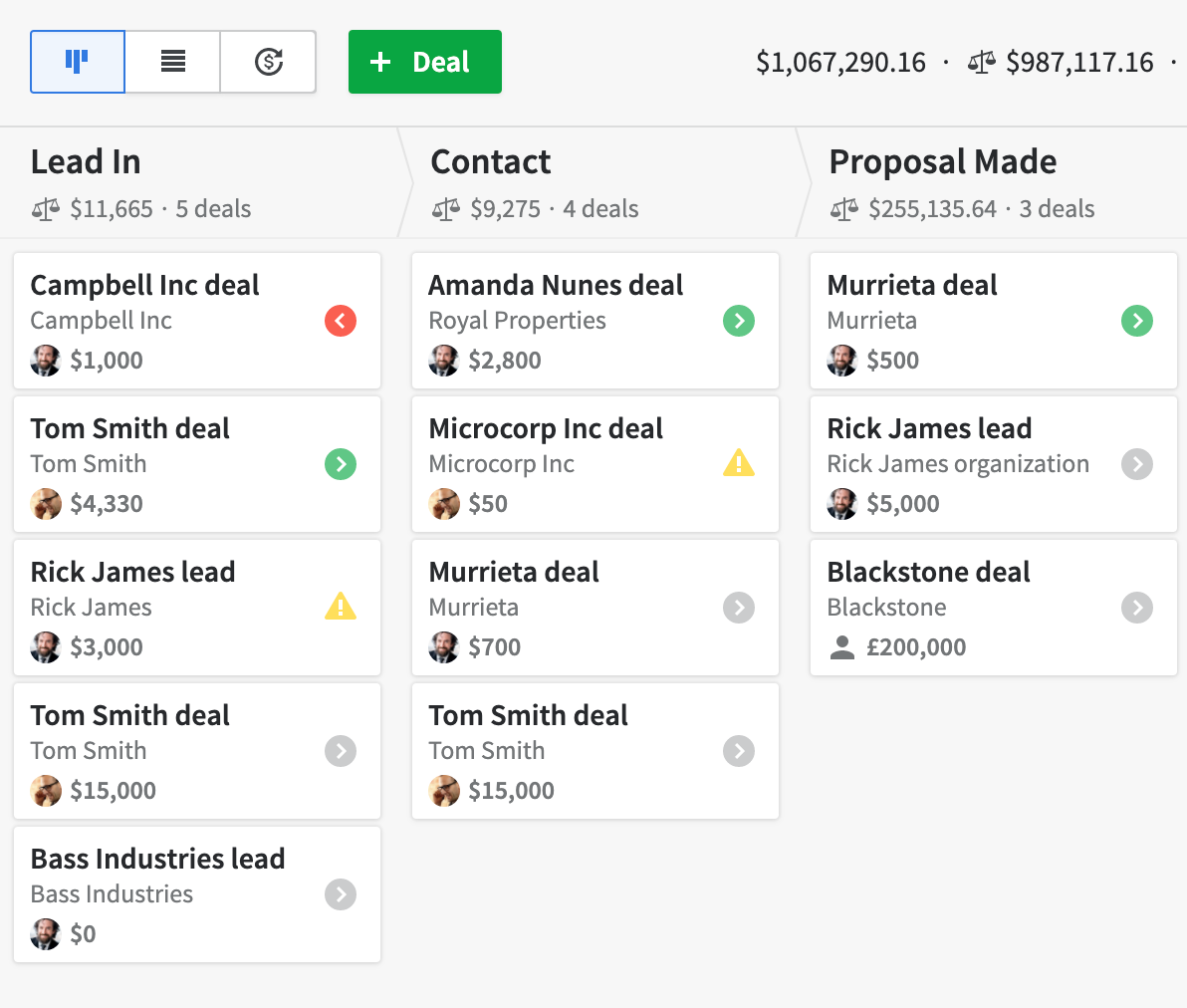 Pipedrive is a CRM system that can track emails, progress, and calls automatically. While not designed specifically for service contractors, it has features such as a visual sales pipeline to help you determine where to create more conversions.
Pipedrive also offers email templates that can be sent from the CRM system. You can see who opened your emails and customize the fields around your business needs. It also has a drag-and-drop interface. Available on both iOS and Android apps.
How to choose a CRM for a small business
Before you choose a CRM software system for your business, you should evaluate the features and functionality that are most important to you. Then, you can choose a CRM software solution that meets your needs.
We recommend that you make a checklist of your requirements. This extra step will help you pick the best fit for your business. The reason is simple: the CRM you choose should support the way you do business. For example, if you send technicians or employees into the field, you need mobile apps, and your CRM should track the work done at the job site.
Small Business CRM Requirements
We have put together this list of standard requirements including some specifically for small service businesses.
Here are some questions you should ask yourself that will help you identify your requirements. Having accurate and well-reasoned answers can save you a lot of time and money down the road.
How many users do you need?
Determining the number of end-users you will require and the size of your company is a crucial first step. For example, if you are a small or medium-sized business, you do not want an enterprise solution with features you will not use.
What's your budget?
Larger enterprise vendors like Salesforce tend to charge more per user. While they do offer more features, having a budget in mind can help you eliminate many CRMs from the get-go. Small business CRMs tend to cost $20-40/user/month., depending on the platform and the features you need.
Who are your customers?
Depending on your type of customer, the CRM can track different data. Therefore, you should keep your users and customer base in mind when searching for a CRM. For example, if you frequently need to send customers repetitive messages, then your CRM should allow you to send updates and information to customers using customized templates.
Is the CRM customized for my industry?
You should research whether the vendor and the CRM are built for your industry. Each industry has different needs, and vendors make functionalities to match them. For example, if you are a service-based business that requires your technicians to take photographs in the field, then the CRM should be able to store files and photos specific to a job or customer.
Do you require mobile support?
If your business has your salespeople or CRM users in the field or working remotely, then you may want to consider looking for a CRM software that has a native iOS or Android app. And this might be more than just your sales team. For example, FieldPulse customers often require their team to generate invoices at the client's site, and our smartphone app allows them to do this on the go in seconds.
Do you prefer cloud-based or a desktop application?
Some CRMs require an application to be installed, while others are accessible through a browser. More commonly, CRM vendors provide smartphone and tablet applications with their web-app.
Do you have time or resources to train your employees?
This answer depends on the type of end user. For example, if your sales teams primarily consists of sales engineers then they may quickly adapt to a complicated CRM. However, training employees to use an intricate CRM will cost time and money.
We suggest sticking to an easy-to-use a system with a simple learning curve. You should also think about how much training you need from the vendor. Some offer free training sessions, while others either don't offer them or charge for these sessions.
Can the CRM scale with your business?
When considering a CRM, you should look at whether the option you are picking can easily scale as your business grows. This doesn't just mean the ability to add more users. Will the pricing work as you grow the business? Are there features that you would need as a larger business?
Does the CRM Integrate with the tools I use?
Consider whether the CRM platform can integrate with standard tools you use so you can share the data. If it includes contact management and marketing automation, does it work with your email provider? For example, FieldPulse can connect with Square, a popular payment processor and QuickBooks. This means you can easily send invoices and accept payments from your clients while keeping everything in sync.
Does the CRM allow me to create custom reports?
Your CRM solution should allow you to create the reports that you need and that are unique to your business. Optionally, it should be easy get your data out of the tool and into reporting software like Microsoft Excel. Either way, you may need to look at your data in a way that the vendor hasn't envisioned, and you want to make sure it's possible before you get there to ensure the sales process is as smooth as possible.
Is the vendor well known and reliable?
Check to see if the vendor has excellent third-party ratings and reviews, and can provide you the support you need. Research the vendor on business software websites like Capterra.
Customer Relationship Management Software Requirements Checklist 
Once you have your list of business requirements, you want to look at the functional requirements of the software. We have compiled a list of some of the most important factors you should consider when researching and comparing different CRM options. Remember to keep your business requirements in mind while going through this list!
Sales Tracking
The most important function of a CRM is to manage sales relationships, leads, and opportunities. The CRM should enable you to collaborate more efficiently, store contacts the way you need them and create/send proposals easily. Additionally, if your sales reps or technicians get commission, you'll want to be able to pull a report inside your CRM.
Contact Management
As we stated earlier, contact management through a CRM should be simple with the information you require at your fingertips. Your sales teams should have easy access to the right contacts as well. We'll discuss user roles more in a moment, but you'll also want to make sure there are limits on who can see which contacts.
Reporting Requirements
The CRM should be able to create commonly used reports for your industry. The CRM should also allow you to generate customizable reports and dashboards that give you actionable insights about your business, or as mentioned above, export data for analysis.
Email Support
Email is a vital tool for communication in today's business world. Check to see that the CRM works with your email provider so you can easily track conversations with leads and customers and facilitate your deal management. This feature will help to streamline your business processes.
Available Everywhere
Having your CRM accessible on the go is essential for small businesses that send employees in the field or that have employees who work remotely. You may want to access your CRM's data from any of your devices.
User Roles
A good CRM solution would allow you to create different user roles to give employees access to varying levels of information. User roles help keep your sensitive data secure. For example, administrators should be able to add and delete contacts as needed. But a field technician should only be able to see jobs and contacts assigned to them.
Track Sales Stages
You should be able to set stages according to your small business sales pipeline and move leads through the funnel as they get closer to buying from you.
Industry-Specific
We believe this is an essential requirement in selecting a CRM. Having a CRM solution that is built for your industry will save you countless hours in set up and will enable you to get started with industry best practices right from day one.
Security
Having a user activity audit trail can help you keep track of who is accessing what data or making changes to your CRM. It can also help you quickly pinpoint any mistakes made by employees.
Backups
While most CRMs are hosted in the cloud and backup all their data regularly, you should ensure that this is the case. The data in your CRM is your small businesses' most important asset.
Pricing
Many CRM providers require yearly contracts and annual billing. This can reduce your costs long-term, but requires you to make a bigger commitment. And it can be more difficult to address slow seasons when you have fewer contractors. Some offer month-to-month pricing which allows you more flexibility. And sometimes, they will offer either option. It's important to consider which option will work best for you.
Scalability
You want to make sure that you can easily scale your CRM user requirements up and down without paying any extra fees or having to transfer your data to another solution.
Integration
Most cloud-based software services offer APIs which allow you to programmatically connect your CRM and pull data from their software. Check to see if the CRM plays nice with other solutions you are already using.
Support
Many vendors offer support and high availability when you are in buying mode, but do research to see that you will receive the same high quality of help once you have made your selection.
Updates
The last thing you want is to get stuck with a CRM provider who does not regularly update their product with new features or improvements based on user feedback. While the solution may be appropriate today, technology evolves very fast so you should keep a lookout for tomorrow as well.
Vendor Information
Conduct research to learn about the vendor's track record in the market. Are their customers satisfied? Do they get good reviews? Are they long-term partner? Remember, your CRM selection is a long-term investment in the future of the company.
Reviews
Check out review sites like G2Crowd or Capterra for actual user reviews of the software. Use the comparison tools to learn the differences between the products to make an informed decision for your small business CRM solution.
Data Portability
We hope it does not come to this, but ask the vendor if the data can be easily exported. Data portability can help you protect your data and easily migrate to another solution if the current one does not work out. Similarly, check if the data is exported in a proprietary format or something more common like csv.
Best CRM for service-based small businesses
When you're looking for a contractor CRM solution that has all the bells and whistles and knows which features and functions you need, you want to check out Fieldpulse. Fieldpulse is used to working with contractors and small business owners and knows what features from the bigger companies will actually serve your business needs.
Easiest CRM For Small Businesses
When you want to keep things simple, there's nothing easier than Less Annoying CRM. It's right there in the name, a basic CRM. There are no changes in prices based on plan or features or number of users, it's just a flat $15 a month with simple to understand tools and useful data. However, what it contains in simplicity, it lacks in features and integrations, which means you'll quickly find yourself outgrowing the program and having to spend more cash to transfer your data over to a more robust system.
Free CRM For Small Businesses
If you've tried some free plan trials and you like the idea of a CRM but don't yet have it in the budget to commit to a monthly plan, Vtiger has a free plan of CRM software for the Cloud as well as an open-source download plan.
Cheap CRM For Small Business
Outside of Hubspot's free tools, Bigin by Zoho is one of the cheapest options for small business CRM software starting at $7/month. This is one of the cheapest CRM solutions available, but the interface can be clunky and you might end up spending more on tools like Zapier to integrate your email, website, and CRM together than it would cost to simply purchase a more robust option.
Customer Relationship Management Best Practices
We've put together these best practices that you should follow to tap the full potential of your small business. Following these guidelines will help you maximize your ROI on the CRM and grow your business without turning you, or your employees, into data entry monkeys.
Match your needs
The most important thing you can do is to find a small business CRM software that can match your small business needs. Spending time researching the best options for your industry and size of the business will go a long way in guaranteeing success.
For example, we specifically built FieldPulse for small to medium-sized service businesses. Every feature we develop is built to address the intricacies and challenges of a contractor business.
Train your employees
To facilitate adoption and CRM success, you should focus on employee training when implementing your CRM. Provide them with training sessions to stay up to date with newer CRM features and a resource to answer any questions they may have. Share self-serve training options with your team, like videos and "how to" guides that your vendor develops.
Create rules
To ensure that your data is not corrupted with incorrect entries or employees misusing the CRM, create a clear set of rules for everyone using the tool. For example, you may want the salesperson to enter any new leads within three days. However, the salesperson may forget or think it is not her responsibility. Therefore, if you create rules, you need to enforce them.
Automate
Modern CRMs offer tons of marketing automation that can do a bulk of managing your relationships. Use automation to save your employees from doing tedious and repetitive tasks and use the CRM to remember details about the customer relationship.
For example, with FieldPulse, you no longer have to copy and paste customer emails. Using a customized template for a customer communication, FieldPulse automatically fills in the field values based on your job and customer data to make sending emails a breeze.
Encourage Collaboration
CRMs encourage different departments to collaborate with one another by having information accessible to everyone. This enables different people to add in data and work together to achieve the organization's goals.
Use the Data
CRMs are the lifeline of your business because of the amount of data they store. CRMs are also built with tools to give you actionable insights about your sales data and how you can use it to grow your business. Therefore, you should analyze the data in your CRM to maximize your ROI.
Keep it simple
Our last piece of advice is to keep your CRM simple. Doing so will help you use all the features and won't overwhelm you with things your business does not require. Moreover, you will waste your time and money on CRM features you will not use. If it's built for your industry, it's more likely to match how you do business, which makes the CRM simple from the start.
We know that implementing a CRM can seem like a big task for small businesses. Most business owners don't have the time to learn complicated software. They just want to focus on their customers and their business. The CRM should add value, be easy, and fit the way you do business.
Our philosophy is that a contracting business needs an all-in-one solution – to manage jobs, accept payments, create invoices and build relationships with customers. This is why we created FieldPulse. We empower service businesses to maximize their potential by taking away tedious and complicated tasks. You have chosen to consider using technology that enhances your business and lets you focus on growth. This is the real end goal of using a CRM solution.